The SPYDERCRANE Brand Advantage for Your Jobsite
People often ask what makes SPYDERCRANE mini crawler cranes so special? The answer isn't as simple as it seems. To really dive into the SPYDERCRANE mini crane we first must look at the features that make the SPYDERCRANE brand unique.
Patented Overturn Protection System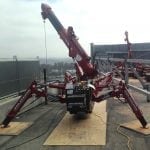 The UNIC SPYDERCRANE Overturn Protection System is a patented UNIC exclusive safety system that is included on the SPYDERCRANE URW090 Series, URW200 Series, and some URW300 Series models.
The Overturn Protection System is comprised of an on-board computer system that continually measures ground pressure on each outrigger through an incorporated "load cell" in each outrigger. If during a lift, one outrigger starts to lose ground pressure and is nearing the safe operating limits of the crane, an alarm will sound and the SPYDERCRANE mini-crawler crane will start to slow the crane functions. If two outriggers start to loose ground pressure, the mini crane will automatically stop all functions that would put the crane closer to an unsafe configuration. With the alarms sounding and the crane stopped, the operator will now be able to maneuver the crane back into a favorable operating position to continue the lift.
Variable Geometry Outriggers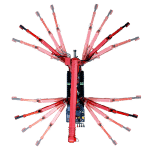 Variable Geometry Outriggers allow for lifts in tight spaces. A standard feature on the 090 and 200 Series SPYDERCRANE models, by offering numerous locking positions on the outrigger swing, knee, and inner box joints, the SPYDERCRANE mini crane can set up around an obstacle, on a catwalk, or in a machinery room in very limited spaces.
Remote Control and Pressure Sensitive Controls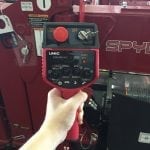 Unlike most cranes on the market, SPYDERCRANE mini cranes offer pressure sensitive controls that speed or slow crane functions based on the amount of pressure input by the operator. Most SPYDERCRANE mini cranes are also equipped with a wireless remote control so an operator can position themselves into the best vantage point for their lift. Combined, these features make SPYDERCRANE branded mini cranes some of the most operator friendly mini cranes on the market.
Superior Materials and Construction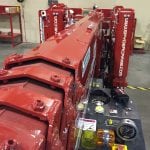 The SPYDERCRANE mini crane is designed with a hexagonal keeled boom instead of a square boom, adding boom strength and reducing boom sway. Constructed using steel that is rated at 140,000 – 160,000 yield (psi), the high tinsel-high yield steel is thinner and lighter than most conventional booms, but by design, sturdier. This leads to a lighter crane that can lift more.
The superior materials and design of the SPYDERCRANE products speak to attention to detail and quality that go into every SPYDERCRANE mini crawler crane.
Narrow Track Width and Low Center of Gravity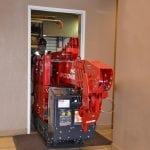 SPYDERCRANE mini cranes can travel through standard size single or double doors depending on the model. The SPYDERCRANE mini crane was thoughtfully designed with a low center of gravity to stabilize the mini crane when traveling and during crane operations. Due to this low center of gravity and increased stability, SPYDERCRANE mini cranes offer some of the narrowest mini cranes in their class.
Frequently Asked Questions about the SPYDERCRANE Mini Crane
UNIC SPYDERCRANE Mini Cranes on the Jobsite