Challenging Ourselves to Bring Only the Best Products to Our Customers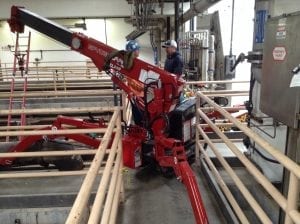 Innovative Tools for Today's World
SPYDERCRANE Mini-crawler cranes are the latest must-have tool for the glazing, steel erection, and construction industries. Manufactured by Japan's Furukawa UNIC Corporation and distributed by Phoenix based Smiley Lifting Solutions, SPYDERCRANE mini cranes offer a compact design that allows for operation in confined areas. The smaller models can travel through a standard width door in their travel position, while other models can fit through a standard double door.
SERVICE
Customer service can often get pushed to the wayside in today's world, but to us it has become a major focus. To better serve our customers, we at Smiley Lifting Solutions have committed to expanding our operations to provide better regional coverage. Through factory stores and a network of re-sellers, local SPYDERCRANE Mini Crane sales, rentals, parts, and service are just a call away.
COMMITMENT
Commitment is a big word, and not to be taken lightly. With SPYDERCRANE, our first commitment is to offer high quality products. The second promise is innovation. We are constantly developing new models as part of the SPYDERCRANE family to better serve our customers unique needs. If you have a lifting need, we have a solution.
OUR HISTORY
During business trip to Japan in 1996 Roger Bassetti and Warren Wagoner first saw a Unic Mini Crawler Crane. They immediately knew that they needed to bring the mini crane technology to the North American market. Because Warren thought the crane's outriggers looked like spider legs, it was only natural to the name the mini crane a Spidercrane. That being said, Spidercrane didn't quite look right to the men. On the plane ride home, Warren suggested changing the "i" in spidercrane to a "y," and the SPYDERCRANE brand was born.

In 2006, with the help of Tony Smiley, of Smiley Lifting Solutions, they made that dream of bringing SPYDERCRANE branded mini cranes to the US market a reality. Problem was, they didn't feel the SPYDERCRANE Mini Crane had been perfected yet. Wanting to offer the SPYDERCRANE mini crane with numerous engine options and design upgrades specific to the market, Smiley Lifting Solutions got to work.
In 2013, Smiley Lifting Solutions began a continental expansion that has grown the SPYDERCRANE product family to include 45 varieties of SPYDERCRANE mini cranes offered at nine factory stores. As the exclusive North American UNIC SPYDERCRANE distributor, Smiley Lifting Solutions offers Rentals, Sales, Service, Parts and Support of SPYDERCRANE products.